Avalanche Forecast published on November 9, 2015 @ 1:59 pm
Issued by Brandon Schwartz - Tahoe National Forest
Early Season Conditions Update #1
While overall snow depth remains shallow, wind slabs and basal facets are starting to show themselves as potential problems. At this point, early season forays into or below snow covered avalanche terrain without deliberate, educated snowpack assessment and companion rescue equipment is foolhardy. Daily avalanche advisories will resume once the snowpack becomes deep enough for over snow travel in widespread areas. Until that time, occasional updates to this page will occur as conditions warrant.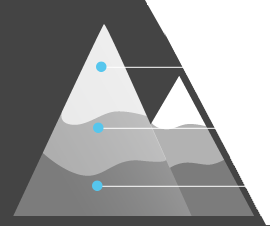 No Rating
?

Above Treeline

No Rating
?

Near Treeline

No Rating
?

Below Treeline

Forecast discussion
The overall snowpack remains shallow with 8 to 12 inches in most areas. Wind loaded areas up to 2 feet deep exist. Recent field observations (more info) from the Mount Rose, Carson Pass, and Donner Summit areas are starting to give clues of the potential for avalanche problems to develop as snowfall continues to accumulate. Below the recent new snow, faceting process are at work on the shallow snowpack. Near crust facets over basal ice, basal facets at ground level, wind slabs, and even the possibility of areas of buried surface hoar have been observed thus far. As slabs above these weak layers continue to build, the potential for reaching the critical tipping point of instability increases.
It is still very rocky and shallow out there. Mellow touring on snow covered forest roads is still the best option. If you head towards avalanche terrain, make constant observations as you travel. Look for indications of current or recent snowpack instability. The best indicator is recent avalanche activity. Other signs of snowpack instability including wind loading, collapse, audible whumpfing sounds, shooting cracks, and/or test slope failure. These are all indications that the snowpack in the immediate area is unstable. When signs of an unstable snowpack exist, the only additional factors needed for an avalanche to occur are a slope steeper than 30 degrees and a trigger.
Current remote weather station data as well as a general weather forecast for the area provided by the NWS can be found by clicking here.
Refresh your avalanche education this fall as it is getting close to being game on in the backcountry. Ongoing education in avalanche safety is critical. Don't fall into the trap of simply completing a Level I course and then calling it done. The Level I course is really just a prerequisite for backcountry travel. Continued education will drastically improve observation, decision making skills, and safety in the backcountry. There are many free education events on SAC's event list. Local avalanche course providers are listed under the education tab at the top of this page. While you wait to attend your next training, check out the free online resources of the Forest Service National Avalanche Center's webpage and Avalanche Canada's Online Avalanche Course. Attend a SAC event and start talking snow and avalanches with the local backcountry community. Don't go out with uneducated partners or rely on a decade plus old, now outdated education. Do better.
Disclaimer
This avalanche advisory is provided through a partnership between the Tahoe National Forest and the Sierra Avalanche Center. This advisory covers the Central Sierra Nevada Mountains between Yuba Pass on the north and Ebbetts Pass on the south. Click here for a map of the forecast area. This advisory applies only to backcountry areas outside established ski area boundaries. This advisory describes general avalanche conditions and local variations always occur. This advisory expires 24 hours after the posted time unless otherwise noted. The information in this advisory is provided by the USDA Forest Service who is solely responsible for its content.