THIS AVALANCHE FORECAST EXPIRED ON November 20, 2013 @ 3:13 pm
Avalanche Forecast published on November 19, 2013 @ 3:13 pm
Issued by Brandon Schwartz - Tahoe National Forest
Easly season conditions update #2.
We are still without sufficient snowcover to warrant daily avalanche advisories. We are making snowpack observations and posting them to the observations page.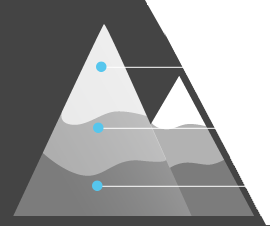 No Rating
?

Above Treeline

No Rating
?

Near Treeline

No Rating
?

Below Treeline

Forecast discussion
If the upper end of forecast snowfall amounts are reached over the next 36 hours, up to 1.5 feet over new snow would accumulate above 8,000'. With little to no wind forecast during the snowfall periods, wind loading and subsequent wind slab formation will be minimal to nonexistent. The weight of the additional snowfall may have some effect of stressing the basal facet layer, but this layer is well anchored by rocks and scree in most areas. A few of the upper elevation NW-N-NE aspects hold enough snow cover to negate any effects of anchoring for the new snow that is expected to deposit on top of the surface crust and basal facet layer over the next 36 hours. With little to no wind forecast, any instability that forms within the expected high density new snow will likely be limited in distribution and size.
With the track record of the weather models over the past several weeks, it will be interesting to see how this storm cycle plays out. If you head into the backcountry, keep an eye out for recent avalanche activity. Other signs of snowpack instability including wind loading, collapse, audible whumpfing sounds, shooting cracks, and/or test slope failure are indications that the snowpack in the immediate area is unstable.
recent observations
The handful of field observations we have made over the past week have revealed areas of continuous snow cover limited to upper elevation NW-N-NE aspects. This is generally above 8,000' along the Sierra Crest and above 9,000' in the Mount Rose area. Snowfall leftover from the October 28 storm event provided the existing snow cover in these areas. The widespread trend in snowpack structure observed thus far on mid and upper elevation NW-N-NE aspects is fairly thin and weak melt-freeze crust on top of facets down to ground level. Overall snowpack height ranges from 6 to 12 inches deep in the areas that have continuous snow cover. Most other aspects melted out since late October, exposing bare ground in the majority of areas. An inch or two of snow fell this morning, adding little to the existing snowpack. Check out the Observations Page for additional details.
Weather and CURRENT CONDITIONS
weather summary
Computer weather models continue to struggle with the seasonal change. The current storm cycle was not even in the models 5 days ago. Confidence is high for continued snowfall tonight (Tuesday) with 2 to 7 inches possible above 7,500'. Confidence is medium to high for a significant short lived burst of snowfall Wednesday afternoon and evening with around 6 inches at 7,000' and 12+ inches along the Sierra Crest above 8,000'. This is from a narrow band of moisture that is currently forecasted to pass over the Lake Tahoe Basin. If the storm track shifts north or south by 30 to 50 miles, we would recieve only a few inches instead of the forecast 6 to 12+ inches. Ridgetop winds are forecast to be fairly light tonight by Sierra storm standards at 10 to 20 mph, gusting to 30mph. Ridgetop winds during Wednesday's precipitation event are forecast as calm.
Disclaimer
This avalanche advisory is provided through a partnership between the Tahoe National Forest and the Sierra Avalanche Center. This advisory covers the Central Sierra Nevada Mountains between Yuba Pass on the north and Ebbetts Pass on the south. Click here for a map of the forecast area. This advisory applies only to backcountry areas outside established ski area boundaries. This advisory describes general avalanche conditions and local variations always occur. This advisory expires 24 hours after the posted time unless otherwise noted. The information in this advisory is provided by the USDA Forest Service who is solely responsible for its content.
This website is owned and maintained by the non-profit arm of the Sierra Avalanche Center. Some of the content is updated by the USDA avalanche forecasters including the forecasts and some observational data. The USDA is not responsible for any advertising, fund-raising events/information, or sponsorship information, or other content not related to the forecasts and the data pertaining to the forecasts.