THIS AVALANCHE FORECAST EXPIRED ON November 27, 2013 @ 1:37 pm
Avalanche Forecast published on November 26, 2013 @ 1:37 pm
Issued by Brandon Schwartz - Tahoe National Forest
Early season conditions update #3.
We are still without sufficient snow cover to warrant daily avalanche advisories. We are making snowpack observations and posting them to the observations page.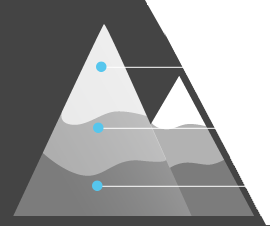 No Rating
?

Above Treeline

No Rating
?

Near Treeline

No Rating
?

Below Treeline

recent observations
The snowpack observations we have made over the past week have shown that 5 to 9 inches of new snow fell above 7,500' during the Nov 20 precipitation event. Above treeline slopes on all aspects are now heavily scoured of nearly all snow following the ENE wind event Nov 21-23. In the wind protected areas at treeline and below treeline, areas of continuous snow cover exist on NW-N-NE aspects above about 7,500'. The widespread trend in snowpack structure continues to be basal facets (sugary snow) in the bottom half of the snowpack with the more recent storm snow and near surface facets on top. Overall snowpack height is around 12 inches deep in most of the areas that have continuous snow cover. At this time, all observations gathered indicate a snowpack that is currently stable, but is unlikely to react well to future new snow loading. Check out the Observations Page for additional details.
Weather and CURRENT CONDITIONS
weather summary
High pressure is in place over the forecast area. Stable weather with partly to mostly cloudy skies is expected through this weekend. There is a very slight chance of some snow showers on Thanksgiving, but that storm system is expected to pass well to the south of the forecast area. There is good consensus in the computer weather models for a change to a cold weather pattern for the first week of December. These same weather models are starting to indicate to possibility of a snowfall event for this same time period. Some models show light snowfall while others are indicating medium to heavy snowfall amounts. Time will tell.
Disclaimer
This avalanche advisory is provided through a partnership between the Tahoe National Forest and the Sierra Avalanche Center. This advisory covers the Central Sierra Nevada Mountains between Yuba Pass on the north and Ebbetts Pass on the south. Click here for a map of the forecast area. This advisory applies only to backcountry areas outside established ski area boundaries. This advisory describes general avalanche conditions and local variations always occur. This advisory expires 24 hours after the posted time unless otherwise noted. The information in this advisory is provided by the USDA Forest Service who is solely responsible for its content.
This website is owned and maintained by the non-profit arm of the Sierra Avalanche Center. Some of the content is updated by the USDA avalanche forecasters including the forecasts and some observational data. The USDA is not responsible for any advertising, fund-raising events/information, or sponsorship information, or other content not related to the forecasts and the data pertaining to the forecasts.