THIS AVALANCHE FORECAST EXPIRED ON December 4, 2013 @ 2:31 pm
Avalanche Forecast published on December 3, 2013 @ 2:31 pm
Issued by Brandon Schwartz - Tahoe National Forest
Early season conditions update #4.
The snowpack is slowly building. At this time we are still without sufficient snow cover to warrant daily avalanche advisories. We are making snowpack observations and posting them to the observations page.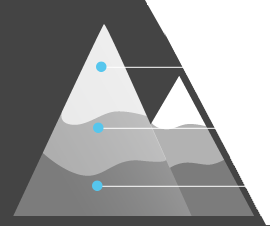 No Rating
?

Above Treeline

No Rating
?

Near Treeline

No Rating
?

Below Treeline

recent observations
As the snowpack has slowly built since late October, a number of key trends have been observed. Prior to today's snowfall, areas of significant snow cover were limited to NW-N-NE aspects. The sun exposed aspects were melted out to bare ground. Above treeline NW-N-NE aspects were heavily wind scoured by gale force ENE winds that occurred on Nov 21-23. The only exceptions to this scouring were a few noted areas on N aspects below large cliff bands (ie. Round Top Peak complex on Carson Pass and Fourth of July Bowl in Blackwood Canyon).
The snowpack that exists in the ENE wind protected areas at treeline and below treeline on NW-N-NE aspects is 12 to 16 inches deep. It is composed mainly of layers of facets (sugary snow) and melt-freeze crusts.  In some locations in the 7,500' to 8,000' elevation range, a basal ice mass formed from rain on snow during the Nov 20 precipitation event. Overall the current snowpack holds faceted weak layers that are unlikely to support significant new snow loading in their current state. For the most part, a strong slab is not present on top of this widespread weak snowpack. The lack of this key avalanche ingredient allows for the presence of a shallow and weak but mostly stable snowpack around the majority of the forecast area at this time.
Today on Tamarack Peak (Mount Rose area) the first signs of an unstable snowpack were observed in snowpit tests. In this area, a stiff wind slab on top of a layer of near surface/near crust facets provided the necessary slab over weak layer combination. While the current known distribution of this snowpack structure is very limited, finding this instability in a narrow gully or chute could lead to to dire consequences from impact with rocks while caught in a small avalanche.
Weather and CURRENT CONDITIONS
weather summary
The cold front that passed through the advisory area this morning left behind 3 to 6 inches of low density new snow as of 2 pm Tuesday. Going forward into this week, cold air temperatures around 20-25 degrees below average are forecast. Periods of lingering snow showers are possible into Wednesday morning with sunny skies by Thursday. The next opportunity for significant snowfall is looking like Friday or Saturday.
Disclaimer
This avalanche advisory is provided through a partnership between the Tahoe National Forest and the Sierra Avalanche Center. This advisory covers the Central Sierra Nevada Mountains between Yuba Pass on the north and Ebbetts Pass on the south. Click here for a map of the forecast area. This advisory applies only to backcountry areas outside established ski area boundaries. This advisory describes general avalanche conditions and local variations always occur. This advisory expires 24 hours after the posted time unless otherwise noted. The information in this advisory is provided by the USDA Forest Service who is solely responsible for its content.
This website is owned and maintained by the non-profit arm of the Sierra Avalanche Center. Some of the content is updated by the USDA avalanche forecasters including the forecasts and some observational data. The USDA is not responsible for any advertising, fund-raising events/information, or sponsorship information, or other content not related to the forecasts and the data pertaining to the forecasts.