Avalanche Forecast published on November 20, 2014 @ 7:56 am
Issued by Brandon Schwartz - Tahoe National Forest
Early season conditions update #2.
Daily avalanche advisories will resume in either November or December as conditions dictate. Until that time, occational updates to this page will occur as conditions warrant.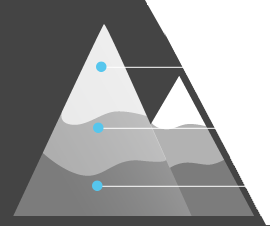 No Rating
?

Above Treeline

No Rating
?

Near Treeline

No Rating
?

Below Treeline

Forecast discussion
The early season snowpack continues to build a few inches at a time. In between storms this fall, periods of melt have occurred. Areas of significant continuous snow cover are limited to north aspects above 8,000'. In these areas snowpack depths range from 4 to 12 inches. The upper end of snowpack depths are found above 8,500' along the Sierra Crest and above 9,300' in the Carson Range. These areas of deeper snowpack are also where the most problematic snow crystal metamorphism is occurring. Weak layers of loose grained facets and depth hoar exist in these areas.
The precipitation event on Nov 19 added an additional inch or so of new snow along the Sierra Crest above 8,000'. Continued snow over the next few days is expected to further add to the upper elevation snowpack a few inches at a time.
Any avalanche concerns over the next several days remain focused on wind slabs. These wind slabs are most likely to form on wind loaded slopes directly below ridgelines and in gullies. Keep in mind that it does not take a thick slab to create an unforgiving avalanche. The shallow snowpack this time of year does not eliminate the risk of avalanches. It does increase the likelihood of impact with rocks and subsequent injury either while caught in a small avalanche or while attempting over snow travel.
The bigger picture concern remains the ongoing faceting and weakening of the slowly building snowpack. While not a major contributor to instability at this time, it may become a significant factor in the future. Barring a major rain event to 11,000', north aspects above 8,500' will become increasingly suspect as the snowpack deepens and weak facet layers are loaded.
While the U.S. Forest Service avalanche forecasters have been monitoring the snowpack, the non-profit partners at SAC have been hard at work as well. There are many great events currently on the calendar ranging from educational talks to ski movies to dinner events. Check the events page for more info.
There are also several excellent online avalanche education opportunities available to refresh and/or build your avalanche skills. Choose one from the drop down list under the "Education" tab at the top of this page.
Current NWS remote weather station data, a general weather forecast for the area, and other weather resources are available here.
Disclaimer
This avalanche advisory is provided through a partnership between the Tahoe National Forest and the Sierra Avalanche Center. This advisory covers the Central Sierra Nevada Mountains between Yuba Pass on the north and Ebbetts Pass on the south. Click here for a map of the forecast area. This advisory applies only to backcountry areas outside established ski area boundaries. This advisory describes general avalanche conditions and local variations always occur. This advisory expires 24 hours after the posted time unless otherwise noted. The information in this advisory is provided by the USDA Forest Service who is solely responsible for its content.