Avalanche Forecast published on November 30, 2014 @ 7:53 pm
Issued by Andy Anderson - Tahoe National Forest - Sierra Avalanche Center
Early season conditions update #3.
If the storms and snow accumulations forecasted for this week occur, the daily avalanche advisory will likely resume. For now and even after this weeks storms, expect early season conditions with lots of exposed rocks and a shallow weak snowpack that barely covers most obstacles. Keep checking this site for updates as the conditions change and the snow falls.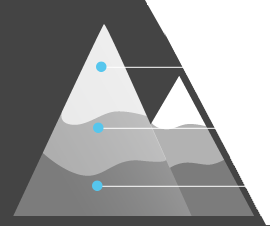 No Rating
?

Above Treeline

No Rating
?

Near Treeline

No Rating
?

Below Treeline

Forecast discussion
A weak and shallow snowpack that barely covers a multitude of rocks, stumps, logs, and other obstacles exists in the backcountry at this time. Snowpack depths range from 10-18 inches in areas above 7500 ft. with significantly less snow at the lower elevations. The N-NE facing slopes above 8000 ft. along the Sierra Crest and above 9000 ft in the Carson Range hold the most snow, but they also hold the weakest snowpack with layers of weak sugary snow (facets) sandwiched between old crusts sitting below the snow that has fallen since Nov 29th.
New snow and wind since Nov. 29 may have created some wind slabs on the leeward aspects near ridgelines and in gullies. While these winds slabs should remain small (at least until larger storms impact the forecast area - Tues, Wed?), a small slide can still have large consequences in a shallow snowpack.
As more snow accumulates, the weak layers of sugary snow near the base of the snowpack will become more of an issue. Recent observations around the forecast area have shown that these weak layers exist on most of the upper elevation N-NE aspects. Tests in these areas have indicated that these weak layers cannot handle much loading before they break. Observations also indicate that anchors poke through these weak layers and disrupt them in some areas. In other areas the weak layers seem more continuous. These conditions will present a Catch-22 for backcountry users because the areas with the best recreation potential will also be the areas where the weakest snowpack exists. Backcountry users should remain extra careful on these N-NE aspects where the persistent weak layers reside. Barring a major rain event to 11,000', N-NE aspects above 8,000' will become increasingly suspect as new snow accumulation loads the persistent weak layers.
A shallow snowpack does not eliminate the risk of avalanches. It does increase the likelihood of impact with rocks and and other shallowly buried obstacles if a person does get caught. The current snowpack remains just deep enough to mask the season ending obstacles lurking just below its surface, so even a fall or hard turn could have large consequences without ever triggering an avalanche.
While the U.S. Forest Service avalanche forecasters have been monitoring the snowpack, the non-profit partners at SAC have been hard at work as well. There are many great events currently on the calendar ranging from educational talks to ski movies to dinner events. Check the events page for more info. The next big SAC event is the Backcountry Ball on Dec 12. Click here for tickets and info.
There are also several excellent online avalanche education opportunities available to refresh and/or build your avalanche skills. Choose one from the drop down list under the "Education" tab at the top of this page.
Current NWS remote weather station data, a general weather forecast for the area, and other weather resources are available here. Also check out our new remote weather page here.
Disclaimer
This avalanche advisory is provided through a partnership between the Tahoe National Forest and the Sierra Avalanche Center. This advisory covers the Central Sierra Nevada Mountains between Yuba Pass on the north and Ebbetts Pass on the south. Click here for a map of the forecast area. This advisory applies only to backcountry areas outside established ski area boundaries. This advisory describes general avalanche conditions and local variations always occur. This advisory expires 24 hours after the posted time unless otherwise noted. The information in this advisory is provided by the USDA Forest Service who is solely responsible for its content.