Avalanche Forecast published on November 18, 2016 @ 3:03 pm
Issued by Steve Reynaud - Tahoe National Forest
Early Season Conditions Report #2
Very little snow currently exists throughout the forecast area for over the snow travel.  Daily avalanche advisories will resume in either late November or December as conditions dictate.  Be prepared for changing conditions and increasing avalanche danger as more storms impact our region.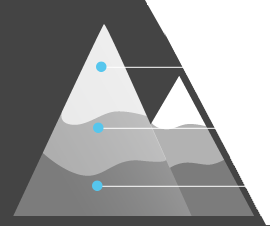 No Rating
?

Above Treeline

No Rating
?

Near Treeline

No Rating
?

Below Treeline

Avalanche Problem 1: Normal Caution
Snow coverage varies throughout the forecast area with few places possible for over the snow travel.  Areas along the Sierra Crest north of I-80 have around 1' of snow above 8500' on north aspects.  The Mt. Rose area has 1-2' of snow on north aspects above 9200'.  Walking will be required to access most of these areas with snow.
Snowpack structure mostly consists of faceted snow and a variety of crusts.  As the clear days and nights continue without significant storms, the snowpack will continue to facet and lose strength potentially setting up a future weak layer.  Expect changing conditions as storms begin to impact our forecast region. 
Many hazards exist in snow covered terrain including: exposed rocks, bushes, trees, firm snow crusts and ice.  Specialized equipment may be necessary to safely travel through these areas.    
Forecast discussion
Don't forget that avalanches have occurred locally in the shallow early season Novermber/December snowpacks of past winters. A few are linked here: Nov 11, 2015 Elephant's Back, Dec 1, 2014 Round Top, Nov 28, 2010 Red Lake Peak,  Nov 21, 2009 Mount Rose Gaz-Ex chutes.
Get up to speed on your continuing education. There are lots of online opportunites. At the awareness end of the spectrum, the Know Before You Go video is a great primer or reminder of how a few simple ideas can greatly expand the margin of safety for travel in avalanche terrain. Avalanche Canada's micro site on the "Rescue at Cherry Bowl" launches Nov 5 and will likely be trend setting in modern avalanche education. For something snowmobile specific, check out the Throttle Decisions video series. For more technical skills specific info, the Forest Service National Avalanche Center's webpage is a well put together online tutorial, direct and to the point, especially helpful if you are short on time but want something meaningful. To delve even deeper, Avalanche Canada's Online Avalanche Course is very well put together, offering excellent text, photos, videos, and even some interactive exercises. There is something of interest for every level and type of winter backcountry traveler.
Check the events calendar for upcoming education and fundraising events.
Disclaimer
This avalanche advisory is provided through a partnership between the Tahoe National Forest and the Sierra Avalanche Center. This advisory covers the Central Sierra Nevada Mountains between Yuba Pass on the north and Ebbetts Pass on the south. Click here for a map of the forecast area. This advisory applies only to backcountry areas outside established ski area boundaries. This advisory describes general avalanche conditions and local variations always occur. This advisory expires 24 hours after the posted time unless otherwise noted. The information in this advisory is provided by the USDA Forest Service who is solely responsible for its content.
For a recorded version of the Avalanche Advisory call (530) 587-3558 x258