Avalanche Forecast published on November 3, 2016 @ 5:06 pm
Issued by Brandon Schwartz - Tahoe National Forest
Early Season Conditions Report #1
Shallow snowcover exists in a few protions of the forecast area that is barely sufficient for over snow travel. The vast majority of the forecast area is covered in very little to no snow. Daily avalanche advisories will resume in either November or December as conditions dictate. Until then, be conservative, travel with companion rescue and emergency bivy gear, and take a strategic approach just as you would mid winter.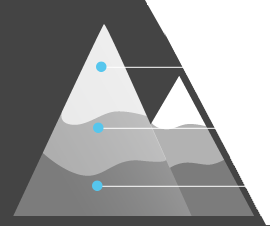 No Rating
?

Above Treeline

No Rating
?

Near Treeline

No Rating
?

Below Treeline

Avalanche Problem 1: Normal Caution
Snow cover varies around the forecast area significantly and its presence/absence is affected more by geographic location than by mid or upper elevation location. Some areas hold significant snow at 7,800' while other areas are nearly bare ground at 8,500'. Air temperature inversion conditions have maximum daytime air temperatures at the upper elevations well above freezing. Significant melt is occurring in all sun exposed areas, especially on E-SE-S-SW-W aspects. NW-N-NE aspects are remaining colder and holding snow cover where it exists.
There is significantly more snow on NW-N-NE aspects at the upper elevations in the northern portion of the forecast area than in the southern portion. There is also more snow along the northern portion of the Sierra Crest at 8,000' than there is in the northern portion of the Carson Range (Mount Rose area) at 9,000'.
Areas above 9,000' on NW-N-NE aspects hold snow deposited on Oct 30th on top of a 1 to 2 foot thick basal ice mass. This ice mass formed out rain on snow to 11,000'+ following the Oct 16 snowfall event. The more recent snow deposited Oct 30th is starting to facet where it overlies this basal ice mass.
As time passes without additional large storms, this snow is likely to facet further, setting up a potential weak layer on top of an ice bed surface that rises up above anchors on the slope. In areas along the northern portion of the Sierra Crest in the 7,500' to 8,500' elevation range, snow from the Oct 30th storm event was deposited on bare ground as the ice mass is absent within this elevation range.
Forecast discussion
It is very easy to get hurt in the shallow snowpack with injury reports already received this week from impacts with rocks and creek beds. Be conservative, travel slowly and defensively. Winter is tough when you are out with injuries until late January. Don't forget that avalanches have occurred locally in the shallow early season Novermber/December snowpacks of past winters. A few are linked here: Nov 11, 2015 Elephant's Back, Dec 1, 2014 Round Top, Nov 28, 2010 Red Lake Peak,  Nov 21, 2009 Mount Rose Gaz-Ex chutes.
Get up to speed on your continuing education. There are lots of online opportunites. At the awareness end of the spectrum, the Know Before You Go video is a great primer or reminder of how a few simple ideas can greatly expand the margin of safety for travel in avalanche terrain. Avalanche Canada's micro site on the "Rescue at Cherry Bowl" launches Nov 5 and will likely be trend setting in modern avalanche education. For something snowmobile specific, check out the Throttle Decisions video series. For more technical skills specific info, the Forest Service National Avalanche Center's webpage is a well put together online tutorial, direct and to the point, especially helpful if you are short on time but want something meaningful. To delve even deeper, Avalanche Canada's Online Avalanche Course is very well put together, offering excellent text, photos, videos, and even some interactive exercises. There is something of interest for every level and type of winter backcountry traveler. One could spend anywhere from 30 minutes to several hours on this course if you worked through all of the sub lessons and sub topics.
When you are done with the online courses, check the Education link at the top of this page for a listing of providers for field based avalanche classes. There is no substitute for field based education and the opportunity to make real world, real time decisions with the guidance and feedback of a professional avalanche educator.
To further fuel the early season stoke and learn about ways to support your local avalanche center, check the events calendar for upcoming education and fundraising events.
Disclaimer
This avalanche advisory is provided through a partnership between the Tahoe National Forest and the Sierra Avalanche Center. This advisory covers the Central Sierra Nevada Mountains between Yuba Pass on the north and Ebbetts Pass on the south. Click here for a map of the forecast area. This advisory applies only to backcountry areas outside established ski area boundaries. This advisory describes general avalanche conditions and local variations always occur. This advisory expires 24 hours after the posted time unless otherwise noted. The information in this advisory is provided by the USDA Forest Service who is solely responsible for its content.
For a recorded version of the Avalanche Advisory call (530) 587-3558 x258