Avalanche Forecast published on November 13, 2017 @ 3:50 pm
Issued by Brandon Schwartz - Tahoe National Forest
Early season conditions update #3 - Regular avalanche advisories will begin later this fall.
More storms are expected to impact the forecast area this week. Some isolated areas of a usable snowpack exist along the Sierra Crest in the northern portion of the forecast area. Anyone participating in over snow travel in or near avalanche terrain needs to carry and properly use companion rescue gear a well as apply avalanche avoidance training.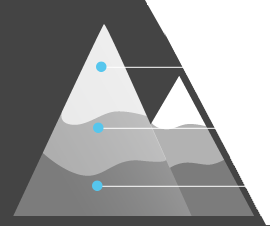 No Rating
?

Above Treeline

No Rating
?

Near Treeline

No Rating
?

Below Treeline

Avalanche Problem 1: Wind Slab
Another round of high elevation snow and strong to gale force SW winds will again bring the potential for wind slab formation this week. This will mainly occur above 7,500' to 8,000' where significant snowfall is expected. Storm events tonight and again Wed-Fri will provide opportunities for wind slab avalanche problems.
Avalanche Problem 2: Loose Wet
Rain on snow may allow for some loose wet avalanche problems. This will occur below snow level, currently forecast to range from 7,000' to 8,500' during storms this week. Locations where rain falls on new snow will be most problematic.
recent observations
Variable snowpack and coverage conditions exist around the forecast area. The areas with the greatest snow depths of 1 to 2 feet and a supportable, usable snowpack are found above 7,800' along the Sierra Crest from the northern boundary of the forecast area down to somewhere in between Ellis Peak and Rubicon Peak. Areas further south along the Sierra Crest have had significantly less snowfall thus far. Areas along the Mount Rose Hwy in the NE portion of the forecast area have minimal snow coverage with just 6-10'' of snow on northerly aspects above 9000'.  The snowpack in this area has shown more potential for future avalanche problems involving old snow layers.
Weather and CURRENT CONDITIONS
weather summary
Storm events expected Monday Night, Wednesday/Thursday, and potentially again on Sunday. Minimal break on Tuesday. Short lived high pressure expected Friday afternoon and Saturday. For the latest mountain weather forecasts go to: http://www.wrh.noaa.gov/rev/avalanche/
Disclaimer
This avalanche advisory is provided through a partnership between the Tahoe National Forest and the Sierra Avalanche Center. This advisory covers the Central Sierra Nevada Mountains between Yuba Pass on the north and Ebbetts Pass on the south. Click here for a map of the forecast area. This advisory applies only to backcountry areas outside established ski area boundaries. This advisory describes general avalanche conditions and local variations always occur. This advisory expires 24 hours after the posted time unless otherwise noted. The information in this advisory is provided by the USDA Forest Service who is solely responsible for its content.
For a recorded version of the Avalanche Advisory call (530) 587-3558 x258
This website is owned and maintained by the non-profit arm of the Sierra Avalanche Center. Some of the content is updated by the USDA avalanche forecasters including the forecasts and some observational data. The USDA is not responsible for any advertising, fund-raising events/information, or sponsorship information, or other content not related to the forecasts and the data pertaining to the forecasts.