Avalanche Forecast published on November 25, 2019 @ 3:09 pm
Issued by Brandon Schwartz - Tahoe National Forest
Early season conditions update #2
The stage is set for the approaching storm system. At this time avalanche risk within the forecast area remains minimal. Avalanche danger will begin to increase following the onset of new snowfall Tuesday afternoon/evening. The first full avalanche forecast for this season is planned for Wednesday morning (Nov 27 at 7 am).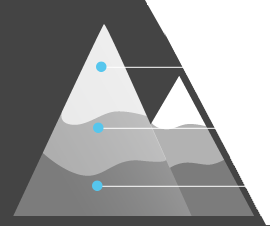 No Rating
?

Above Treeline

No Rating
?

Near Treeline

No Rating
?

Below Treeline

Avalanche Problem 1: Normal Caution
Traditional avalanche start zones along ridge tops remain heavily wind scoured with mostly bare ground showing, even in the areas favored by the Nov 19-20 snowfall. A light dusting of up to an inch or so of snow exists in some of these areas but is not problematic. Along the eastern edge of the forecast area from the Mount Rose Hwy down to Jobs/Freel Peaks, Two to five inches of faceted snow is on the ground in the more wind protected areas at and below treeline on N-NE aspects. There is a small chance that this old snow on the ground could play into instability once buried by the upcoming storm. Until the onset of the upcoming storm, avalanche hazard remains minimal.
recent observations
The observations listed below from Barker Pass and Round Top (Carson Pass) are indicative of most of the Sierra Crest portion of the forecast area. The observations from Tamarack Peak and Incline Lake Peak in the Mount Rose area indicate some of the changes in the snowpack along the Carson Range that have occurred over the past 5 days.
Disclaimer
This avalanche forecast is provided through a partnership between the Tahoe National Forest and the Sierra Avalanche Center. This forecast covers the Central Sierra Nevada Mountains between Yuba Pass on the north and Ebbetts Pass on the south. Click here for a map of the forecast area. This forecast applies only to backcountry areas outside established ski area boundaries. This forecast describes general avalanche conditions and local variations always occur. This forecast expires 24 hours after the posted time unless otherwise noted. The information in this forecast is provided by the USDA Forest Service who is solely responsible for its content.
For a recorded version of the avalanche forecast call (530) 587-3558 x258